
Contact us
How can we help you?
Do not hesitate to contact us for further information. We are looking forward to receive your call or mail, and will do our outmost to help you with the product request or support you need.
Welcome to EN MediPart
Let us assist you in your glove purchase ensuring that you get the quality you are looking for
We have many years of experience in both manufacturing of gloves as well as selling them into different countries and applications.
Here you will find general information about our glove range, and tools that can assist you in understanding different aspects of quality, standards, legislations and much more around gloves.
Let us inspire and guide you to find exactly the products you need.
We have not invented the wheel, but with our associates some of the best value for money single use gloves.
"Thinking ahead – Moving forward"
What can we offer
We are your partner in Single use glove supply and have been active in this sector since 1984
Quality assurance is the basic requirements for the high standard of our EN MediPart's products and our clients are assured of the products conform to the International Standards, as well if there are any special national requirements.
In order to be a truly reliable business partner of yours, we will ensure that the gloves must provide a consistent performance for whatever procedure of its intended use. We perform many different tests on the gloves to ensure that they are suitable for the intended use. Most tests are carried out by external accredited laboratories, but some are also performed in cooperation with our partners. These are mainly the tests performed for each shipment made.
You are always welcome to ask for a list of the tests performed on our products.
There is definitely a glove in our program that fits every area you are working in. Please have a look below where you can find gloves for different purposes. If you do not find exactly what you are looking for, please contact us, and we will find the glove you are looking for.
Choose the right glove for your work
Blog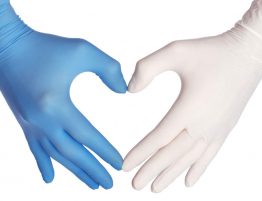 Do you know why your customers wear gloves? What worries…