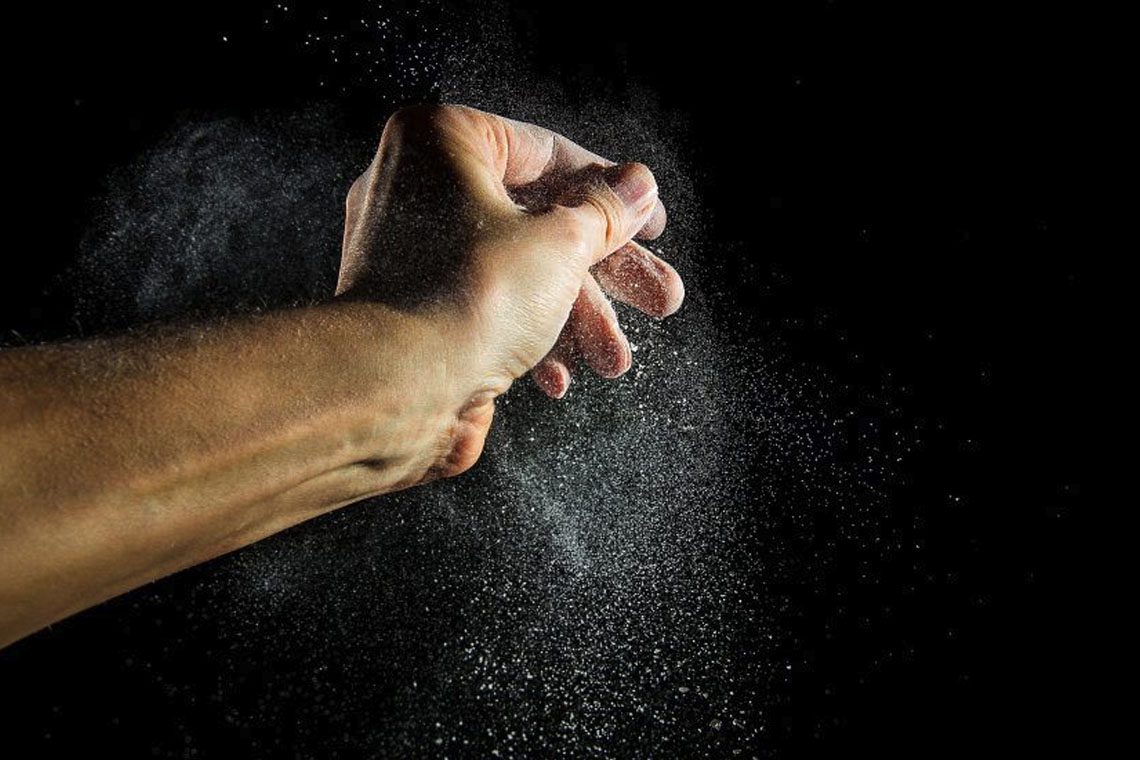 The FDA (Federal Drug Administration) rarely use their authority to ban a medical device, but December 19th 2016 they published the final ruling banning powdered gloves.
This is for surgical gloves as well as examination gloves.
They have through research found that the risk of using the powdered gloves, are higher compared to the benefits of using them, and that there are alternatives, that gives the exact same benefits of use, without the same risks.
In this article, I will give you an overview of some of the reasons for the banning as well as the comments that were filled during the public comment period.
History of powder in gloves – why was powder used?
Powder was and is still used in gloves in other parts of world, it is used to aid donning and doffing of gloves. Powder is also used in the production as a mold release, enabling the gloves to stripped of the molds. A third benefit of using powder is that the gloves are easy to dispense, as the powder makes sure they do not stick to each other in the dispenser.
Following are examples of the different types of powder used in gloves: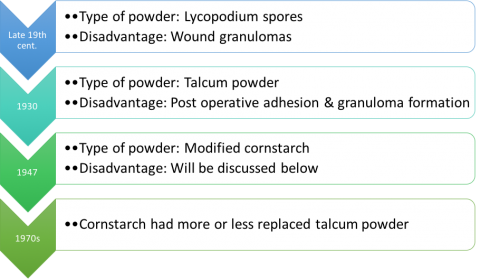 Which type of gloves are banned and which are excluded?
Both powdered surgical as well as examination gloves are banned. The gloves that were excluded are powdered radiographic protection gloves. They are excluded because these gloves with powder were not found on the market.
From the time when the rule was effective all sales as well as use of powdered gloves were banned. Even gloves in the market place were subject to the ban.
There were comments issued that the ban should also cover gloves made from natural rubber latex (hereafter NRL), or that it should only cover gloves made from natural rubber latex with powder, but it covers all material, and it does not cover gloves from NRL that are powder-free. Powder-free NRL can still be safely used with appropriate caution for latex-sensitive healthcare workers and patients.
Synthetic material containing powder are still considered to have some risk, f.ex when used during gynecological exams, it has been demonstrated in animal models and human clinical studies that powder can lead to female reproductive complications.
Time line of the banning and the proposal rule: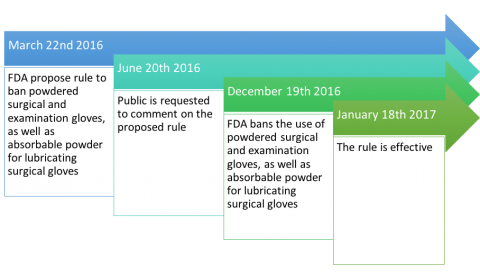 What are the risks when using powdered gloves?
There are several risks when using powdered gloves. Some of the risks are following:
Inflammation, granulomas and respiratory allergic reactions.
When we talk about powdered latex gloves, the amount of latex proteins is much higher (around 4 times higher – could even be more, but can also be less), than in a powder-free latex glove.
Latex proteins can become aerosolized, which can cause a significant risk to health care workers and patients.
Benefits of using powdered gloves
Donning with damp or wet hands can be easier. Some people also think that the doffing is easier, and that tackiness is decreased.
A comment was given that a powdered glove is less likely to tear. This was disagreed upon, because research made on this subject, no evidence was found that a powdered glove would be more durable than a powder-free glove (Korniewicz, et al.). Only when using vinyl gloves, there was a difference, but in general research also shows that vinyl gloves are less durable than examination gloves made from other materials (Kerr, et al.).
Powder level in powdered and powder-free gloves
The recommended limits for powdered gloves by FDA was set at 15 mg/dm2 for surgical gloves and 10 mg/dm2 for examination gloves.
Powder could range from 50 to more than 400 mg powder per glove.
Powder-free gloves have as little powder as possible. There is still powder used in the production of gloves, as for example as mold release agent. Therefore, the gloves can have some powder residual. If a glove is powder-free it can only contain max. 2 mg powder per glove. This is both recommended by FDA, and in EU it is not only recommended, but it is a part of the EN 455-3 standard.
Labelling not enough
Labelling the risk of using powdered gloves, were not considered to be sufficient, because the risks would not only be for the one using the glove, but for the people/patients in the surroundings, who have no chance to take any precautions.
Labelling of the gloves would not eliminate the risk of the product.
We must remember that medical gloves are used to protect both patients and healthcare workers from cross contamination.
Price and economic analysis of impacts of the rule
FDA believes that the ban will not have a big impact on the economy, because powdered and powder-free gloves are priced equally. They also do not see any shortage in glove supply, because today less than 7% of gloves are powdered gloves (in USA). The use of powdered gloves has been declining since 2000 where at the same time the use of examination gloves have increased.
It is believed to have a positive net benefit to the society. The benefit would be from the cost that will be saved by reducing the adverse events.
This saving is estimated to be between USD 26,8 mio – USD 31,8 mio.
Comment:
There is still a price difference between powdered and powder-free latex gloves, but the price difference will most probably be even more reduced now, because of this banning. The banning of the product made by USA would be considered to have an effect of the world price of the powder-free latex gloves in the long run.
What happens to the gloves already in the market place?
After the effective date of the ban, no powdered gloves can be sold within the USA and cannot be used. This means there will be some stock, that either must be disposed of or sold outside of the USA.
Something to consider:
What effect do you think that this will have on the powdered glove prices outside of USA?
Remember that gloves that comply with the ASTM standards are not automatically complying with the European standards EN 455.
Environmental effects?
Disposal of the gloves is not expected to have a significant effect on the environment.
Reactions to the proposed rule
There were a lot of different reactions to the proposed rule. The majority were supportive and positive.
Some reactions are mentioned in the text above, and if you want to learn more about the reactions, you can find it in the Federal Register/Vol. 81, No. 243
Europe
In many countries powdered gloves have not been used in the hospitals for many years, but they are still used in other parts of the healthcare sector.
To make sure that you choose a safe glove, choose the powder-free version. It is not only for the safety of yourself, but also your surroundings.
We will see an effect throughout the world caused by the banning made by FDA, and I think it is about time.
The information in this article is based on the Proposed Rule Document; Banned Devices; Proposal to ban powdered surgeon's gloves, powdered patient examination gloves, and absorbable powder for lubricating a surgeon's glove; and the Final rule published in Federal Register/Vol. 81, No. 243.
The comments written with italic are my considerations.